After acquiring a pair of New Packet Radio modems on behalf of VECTOR, I set it up on my Linux machine and ran some basic tests to check whether it could achieve the advertised 500 kbps transfer rates, which are much higher than AX25) packet radio.
The exact equipment I used was: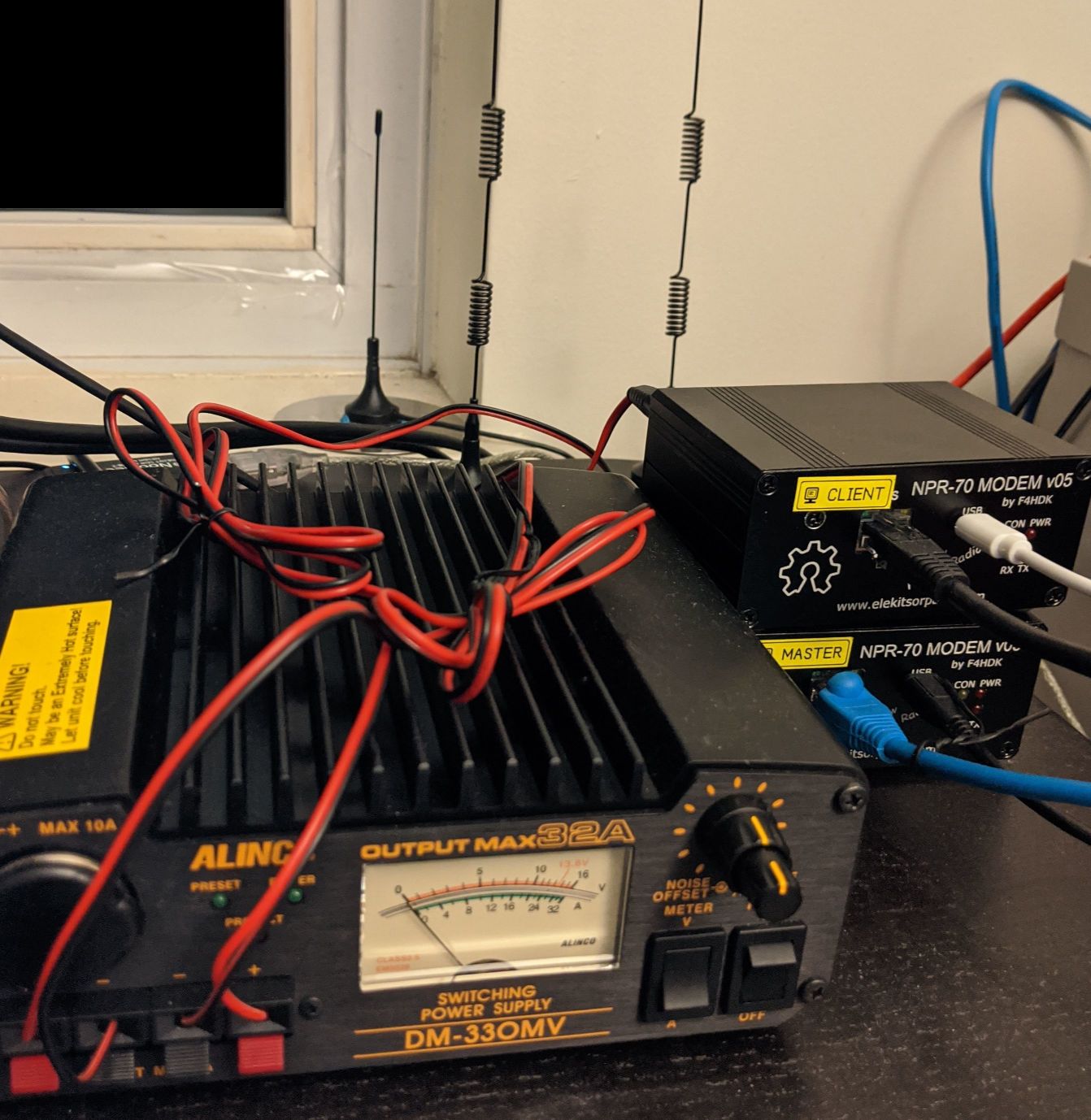 Radio setup
After connecting the modems to the power supply and their respective antennas, I connected both modems to my laptop via micro-USB cables and used minicom to connect to their console on /dev/ttyACM[01]:
minicom -8 -b 921600 -D /dev/ttyACM0
minicom -8 -b 921600 -D /dev/ttyACM1

To confirm that the firmware was the latest one, I used the following command:
ready> version
firmware: 2020_02_23
freq band: 70cm

then I immediately turned off the radio:
radio off

which can be verified with:
status

Following the British Columbia 70 cm band plan, I picked the following frequency, modulation (bandwidth of 360 kHz), and power (0.05 W):
set frequency 433.500
set modulation 22
set RF_power 7

and then did the rest of the configuration for the master:
set callsign VA7GPL_0
set is_master yes
set DHCP_active no
set telnet_active no

and the client:
set callsign VA7GPL_1
set is_master no
set DHCP_active yes
set telnet_active no

and that was enough to get the two modems to talk to one another.
On both of them, I ran the following:
save
reboot

and confirmed that they were able to successfully connect to each other:
who

Monitoring RF
To monitor what is happening on the air and quickly determine whether or not the modems are chatting, you can use a software-defined radio along with gqrx with the following settings:
frequency: 433.500 MHz
filter width: user (80k)
filter shape: normal
mode: Raw I/Q

I found it quite helpful to keep this running the whole time I was working with these modems. The background "keep alive" sounds are quite distinct from the heavy traffic sounds.
IP setup
The radio bits out of the way, I turned to the networking configuration.
On the master, I set the following so that I could connect the master to my home network (192.168.1.0/24) without conflicts:
set def_route_active yes
set DNS_active no
set modem_IP 192.168.1.254
set IP_begin 192.168.1.225
set master_IP_size 29
set netmask 255.255.255.0

(My router's DHCP server is configured to allocate dynamic IP addresses from 192.168.1.100 to 192.168.1.224.)
At this point, I connected my laptop to the client using a CAT-5 network cable and the master to the ethernet switch, essentially following Annex 5 of the Advanced User Guide.
My laptop got assigned IP address 192.168.1.225 and so I used another computer on the same network to ping my laptop via the NPR modems:
ping 192.168.1.225

This gave me a round-trip time of around 150-250 ms.
Performance test
Having successfully established an IP connection between the two machines, I decided to run a quick test to measure the available bandwidth in an ideal setting (i.e. the two antennas very close to each other).
On both computers, I installed iperf:
apt install iperf

and then setup the iperf server on my desktop computer:
sudo iptables -A INPUT -s 192.168.1.0/24 -p TCP --dport 5001 -j ACCEPT
sudo iptables -A INPUT -s 192.168.1.0/24 -u UDP --dport 5001 -j ACCEPT
iperf --server

On the laptop, I set the MTU to 750 in NetworkManager: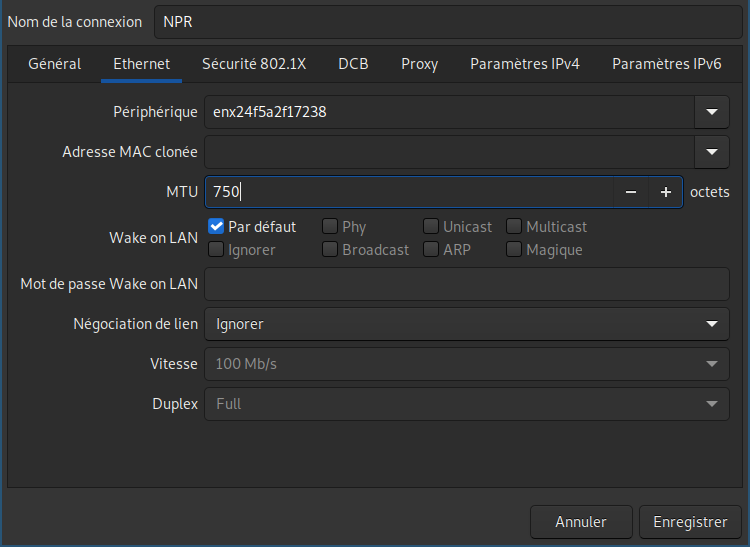 and restarted the network.
Then I created a new user account (npr with a uid of 1001):
sudo adduser npr

and made sure that only that account could access the network by running the following as root:
# Flush all chains.
iptables -F

# Set defaults policies.
iptables -P INPUT DROP
iptables -P OUTPUT DROP
iptables -P FORWARD DROP

# Don't block localhost and ICMP traffic.
iptables -A INPUT -i lo -j ACCEPT
iptables -A INPUT -p icmp -j ACCEPT
iptables -A OUTPUT -o lo -j ACCEPT

# Don't re-evaluate already accepted connections.
iptables -A INPUT -m conntrack --ctstate RELATED,ESTABLISHED -j ACCEPT
iptables -A OUTPUT -m conntrack --ctstate RELATED,ESTABLISHED -j ACCEPT

# Allow connections to/from the test user.
iptables -A OUTPUT -m owner --uid-owner 1001 -m conntrack --ctstate NEW -j ACCEPT

# Log anything that gets blocked.
iptables -A INPUT -j LOG
iptables -A OUTPUT -j LOG
iptables -A FORWARD -j LOG

then I started the test as the npr user:
sudo -i -u npr
iperf --client 192.168.1.8

Results
The results were as good as advertised both with modulation 22 (360 kHz bandwidth):
$ iperf --client 192.168.1.8 --time 30
------------------------------------------------------------
Client connecting to 192.168.1.8, TCP port 5001
TCP window size: 85.0 KByte (default)
------------------------------------------------------------
[  3] local 192.168.1.225 port 58462 connected with 192.168.1.8 port 5001
[ ID] Interval       Transfer     Bandwidth
[  3]  0.0-34.5 sec  1.12 MBytes   274 Kbits/sec

------------------------------------------------------------
Client connecting to 192.168.1.8, TCP port 5001
TCP window size: 85.0 KByte (default)
------------------------------------------------------------
[  3] local 192.168.1.225 port 58468 connected with 192.168.1.8 port 5001
[ ID] Interval       Transfer     Bandwidth
[  3]  0.0-42.5 sec  1.12 MBytes   222 Kbits/sec

------------------------------------------------------------
Client connecting to 192.168.1.8, TCP port 5001
TCP window size: 85.0 KByte (default)
------------------------------------------------------------
[  3] local 192.168.1.225 port 58484 connected with 192.168.1.8 port 5001
[ ID] Interval       Transfer     Bandwidth
[  3]  0.0-38.5 sec  1.12 MBytes   245 Kbits/sec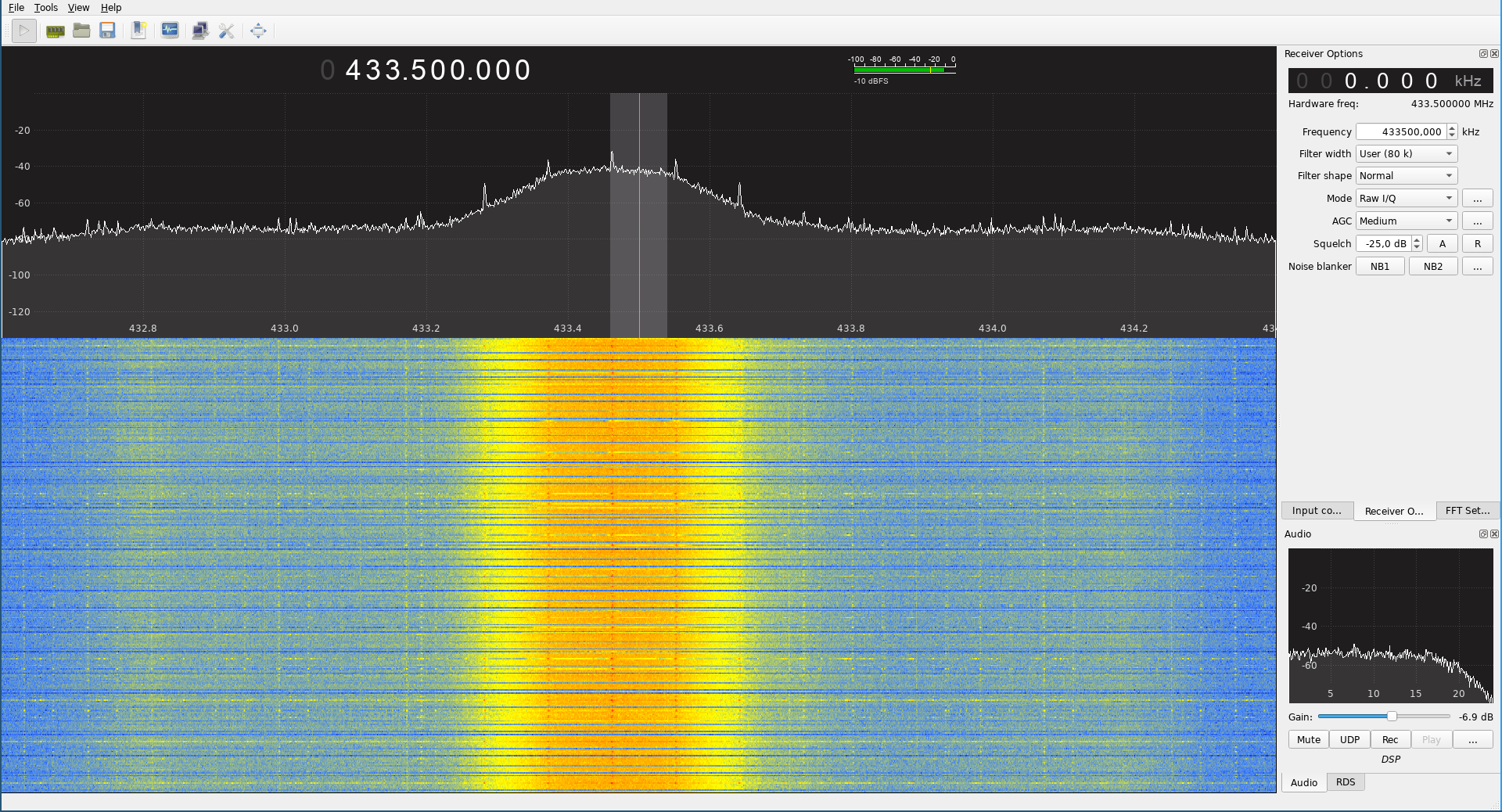 and modulation 24 (1 MHz bandwitdh):
$ iperf --client 192.168.1.8 --time 30
------------------------------------------------------------
Client connecting to 192.168.1.8, TCP port 5001
TCP window size: 85.0 KByte (default)
------------------------------------------------------------
[  3] local 192.168.1.225 port 58148 connected with 192.168.1.8 port 5001
[ ID] Interval       Transfer     Bandwidth
[  3]  0.0-31.1 sec  1.88 MBytes   506 Kbits/sec

------------------------------------------------------------
Client connecting to 192.168.1.8, TCP port 5001
TCP window size: 85.0 KByte (default)
------------------------------------------------------------
[  3] local 192.168.1.225 port 58246 connected with 192.168.1.8 port 5001
[ ID] Interval       Transfer     Bandwidth
[  3]  0.0-30.5 sec  2.00 MBytes   550 Kbits/sec

------------------------------------------------------------
Client connecting to 192.168.1.8, TCP port 5001
TCP window size: 85.0 KByte (default)
------------------------------------------------------------
[  3] local 192.168.1.225 port 58292 connected with 192.168.1.8 port 5001
[ ID] Interval       Transfer     Bandwidth
[  3]  0.0-30.0 sec  2.00 MBytes   559 Kbits/sec